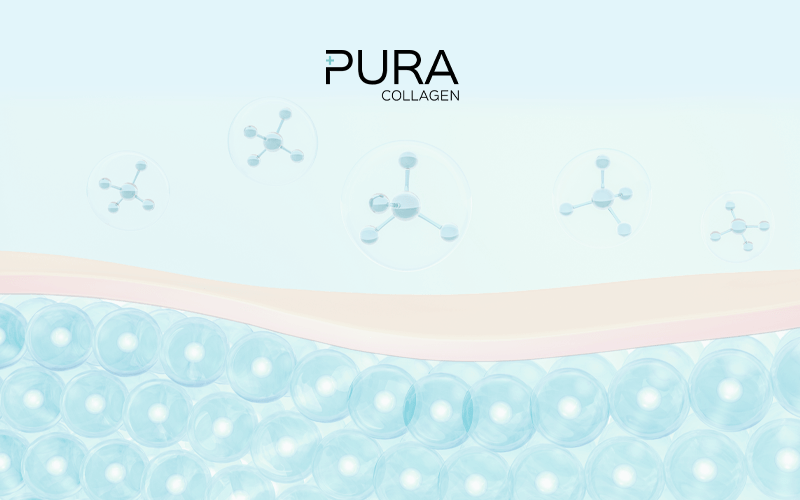 Collagen blends are becoming an increasingly popular supplement in daily diets thanks to their ability to improve our bodies, from hair and skin health to joint and tendon strength. But how do we know whether the collagen we're taking is having the best possible effect? Keep reading to see what Pura Collagen does differently, and how this is better than taking a general collagen blend.
Are Bioactive Collagen Peptides® Better?
At Pura Collagen, we use hydrolysed, targeted Bioactive Collagen Peptides®. This means that each peptide can only target and activate collagen production in specific areas of the body. For example, our glow+ collagen powder will only target collagen for hair, skin and nails, and flex+ will only target tendons and joints. This makes our collagen much more specialised than general type I, II or III collagen, and the study below proves just that. In vitro studies carried out in laboratory dishes showed that the Bioactive Collagen Peptides® we use in our products have a stronger effect than generic collagen. Laboratory conditions sometimes produce a double effect. However, in the clinical relevance of these human studies, this still translates into 7-32% more effectiveness. For more information on how Pura Collagen goes one step further, take a look at our blog that breaks down
what collagen is, and how it works.
Find Your Perfect Blend with Pura Collagen
Pura Collagen provides Bioactive Collagen Peptides® that target different parts of the body depending on the product you choose. Our most popular staple products, glow+ and flex+, tackle hair, skin and nail strength and tendon and joints respectively, but we also offer other collagen powders for improving your sleep and overall health. We even offer a number of collagen powder bundles, so you can make a saving whatever it is you're looking to improve. Browse our range to learn more.